Springtime is just around the corner! Is finishing your basement on your to-do list? Before getting started, make sure you have a plan for basement waterproofing. Here are some important steps to finishing a basement plus info on how to prevent mold in a finished basement.
Drainage System Installation
When water gets into your basement, it can cause mold, mildew, and water damage. Installing an exterior drainage system and a foundation membrane helps prevent these issues by moving water away from your home. A drainage system includes weeping tile, a sump pit, a sump pump, a discharge line, exterior foundation applications, and knowledgeable installation experts in the foundation repair process.
To begin with, after hand excavating around your home, a perforated plastic pipe called weeping tile (which in the past was made from terracotta tiles, hence the name) is installed along the perimeter of your foundation. The pipe collects water and moves it to your sump pit, which contains a sump pump. The sump pump pumps the water away from your house to prevent water damage to your basement. Learn more about weeping tile by reading our previous blog post.
When installing a drainage system, you can also add an insulation drainage board to your foundation to enhance your foundation's R-Value (an insulating material to resist heat flow). In addition to increasing the R-value in your basement, exterior insulation drainage boards also relieve lateral pressure against your basement walls. You can find out more about R-Value by reading our previous blog post.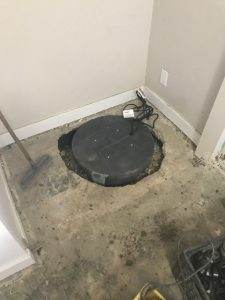 Sump Pump System Installation
Sump pumps help prevent flooding in the basement by moving water away from your home. The sump pit collects water from your weeping tile system. When the water reaches a certain level, the sump pump activates and pumps the water through a discharge pipe, which directs the water away from your house. It is important that your discharge line (outside your home) is placed at a 5-degree angle away from your house to ensure the water flows away.
An exterior drainage system and sump pump system are important steps in basement floor waterproofing. This system is vital to controlling the water table of your basement foundation slab. Learn more about sump pumps and why you should have one. 
Sealing Basement Walls
Waterproofing exterior basement walls is another important step in waterproofing your basement before your finish it. Waterproofing your basement walls should be done on the exterior of your basement walls for a permanent fix. This process goes hand-in-hand with your exterior drainage system.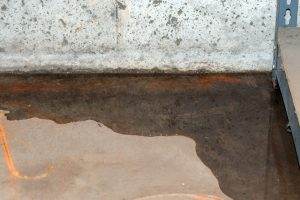 In addition to the exterior foundation waterproofing membrane, you can also seal your basement walls from the outside by filling in cracks in the concrete and sealing areas where pipes run through the foundation. Sealing basement walls help prevent mold in your finished basement.
If you're planning on finishing your basement this spring, it's helpful to understand how to waterproof your basement so you can prevent mold and mildew from growing and reduce your risk of water damage.
When taking steps to finish a basement, be sure to install a complete basement drainage system, install a sump pump, and seal your external basement walls. Don't want to do it on your own? Call on K. Kuypers for expert advice and service. Learn more about our basement waterproofing services, read our testimonials, or contact us to get started.