When you think of your dream home, you might be thinking of a modern farmhouse style or a mid-century modern design, warm and rich color tones or neutrals, or deciding between a central townhouse or a home with a larger footprint. You're probably not thinking about the soil it's built on, but the characteristics of your soil can play an important role in the structure of your home.
What living in Alberta means for the soil around your home
The foundation of your home, or the concrete poured at the very base, is your home's first layer of defense against the soil and moisture surrounding it. The soil your home is built on is a combination of salt, silt and clay, composed of different densities and properties. No matter the type of soil under your home, the rapidly changing weather conditions in Alberta will certainly affect it, in turn changing the environment around your foundation. So what does that mean for your home?
Freeze and thaw cycles:
The freeze thaw cycle occurs when moisture around your home freezes, expanding up to 10%. This expansion can cause cracks in your foundation as the soil exerts pressure against your foundation walls, and as moisture enters these cracks and re-freezes, the cracks will continue to widen. This process of soil freezing and thawing is also called frost heaving. This issue is common in Alberta homes, as we see consistently cold temperatures and fluctuating weather – not unlike what we're experiencing right now!
Heavy precipitation

:
Heavy periods of moisture and precipitation will cause the soil particles to swell, leading to issues when followed by periods of dryness. Depending on the type of soil under your home, the moisture can also 'soften' your soil, causing your home to sink. It's important to note that this doesn't just mean rain storms – it can also occur in the spring, when large amounts of snowfall melt off.
Dry weather:
In extremely dry weather, (like our most recent summer of 2021, reaching record-breaking periods of dryness in Alberta) the moisture contained in the clay particles of your soil will evaporate, causing extra space in the soil. Your home's foundation may sink or shift as a result of gravity as it fills these gaps in the soil, creating cracks in your basement walls and floor.
Fixing shrinkage cracks in walls and cracks in your basement floor
You can't control the weather or the soil your home is built on, but you can impact how the moisture is managed around your home, preventing excessive amounts from seeping into the soil. Weeping tile installation or weeping tile repair can help disperse and manage groundwater and surface water, by creating a piping system around your foundation to direct moisture away from your home.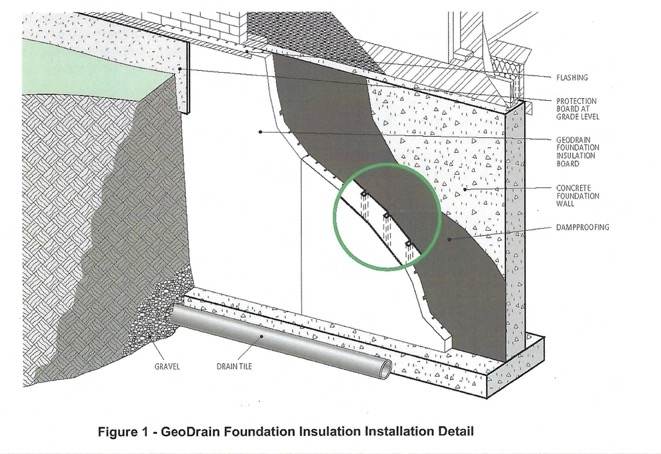 In addition, one of the foundation repair processes that K Kuypers Construction performs while waterproofing your basement is installing a foundation insulation board. The insulation board acts as a drainage system for any water, by acting as a path of least resistance for the water to drain down to the weeping tile. It takes lateral pressure off the foundation walls and adds 8.08 R-value to your home or commercial property.
We recommend calling a professional like K Kuypers Construction to help you address any foundation concerns in your home. K Kuypers Construction has been a trusted expert in Edmonton foundations since 1954, offering quality you can rely on backed by a 25-year warranty.